Professional General Contractors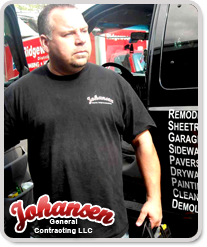 Johansen General Contracting provides services for Bergen County, Passaic County, and Hudson County. We are also planning on expanding services in other localities in the near future.
For years, Johansen General Contracting has also responded to emergency repairs after calamities like hurricanes or earthquakes, providing the much needed assistance in rebuilding communities and businesses. With this, we at Johansen General Contracting are always proud to be at your service.

Johansen General Contracting is more than just another general contractor. We strive to do more than just repair the broken or replace the old because Johansen General Contractor aims to above all, enhance the spaces we work on. In addition to professional craftsmanship, we pride the creativity we deliver in general contractor services that are impressive in terms of both function and appearance.

With professional expertise and passion for creative output, Johansen General Contracting has become a premiere company for clients needing to enhance their space. Whether it is your place of residence or place of business, we at Johansen General Contracting provide top caliber workmanship, inspired by our client's vision of their perfect space.
Johansen General Contracting: You dream it, we'll build it.



Why Choose Us?
With 24 years of experience, Johansen Improvements provide top-notch General Contracting services specializing in Exterior Concrete Work, Residential/Commercial General Exterior Work, Interior Improvement Services and Handyman Services for both residential and commercial clients. We also take pride in providing excellent services when it comes to Roof Repair, Painting, Concrete Repair and Masonry Work, Clean outs, Gutters and Chimney Work.