Exterior Concrete Repairs - Masonry & Patio in NJ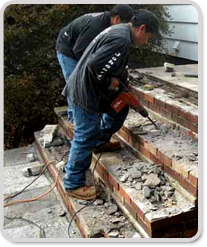 We at Johansen General Contracting know that people's lives do not revolve indoors alone.That is why one of the main services offered by Johansen General Contracting is Exterior Concrete Work. We focus on using high quality materials combined with professional skills to provide results that satisfy not only in terms of function but also in appearance.
Our services include:
Demolition
Exterior Drainage
Foundation Repair & Ceiling
Front steps: repair and replacement ***limestone tread step repair
Patios
Pavers and Retaining Walls
Sidewalks: new installment, repair and replacement
Stucco
Walkways and Driveways
In addition, Johansen General Contracting also specializes in Roof Repair, Painting, Clean outs, Gutters and Chimney Work.
Whether it is to repair damaged parts or refurbish worn out spaces, Johansen General Contracting guarantees to provide top-notch, professional and creative workmanship,honed by years of experience, that deliver results which is true to our clients' vision.
Johansen General Contracting provide General Contracting services for Bergen County, Passaic County, and Hudson County. We are also planning on expanding services in other localities in the near future.
Johansen General Contracting: You dream it, we'll build it.



Why Choose Us?
With 24 years of experience, Johansen Improvements provide top-notch General Contracting services specializing in Exterior Concrete Work, Residential/Commercial General Exterior Work, Interior Improvement Services and Handyman Services for both residential and commercial clients. We also take pride in providing excellent services when it comes to Roof Repair, Painting, Concrete Repair and Masonry Work, Clean outs, Gutters and Chimney Work.